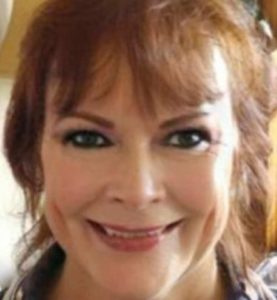 Julie Jacobs was born in Bakersfield, CA, and raised in Lafayette, CA. She moved to Rio Vista in 2013. Art has always been a part of Julie's life since she was old enough to hold a crayon. Julie has learned from and enjoyed many mediums, but has mainly used water colors and oils since living in Rio Vista.
Animals and nature have always been Julie's main inspiration and focus of her artwork, as she is a huge animal lover! She has spent many years volunteering for wildlife hospitals and marine mammal rescue. Julie has also loved and cared for domestic pets most of her life and is currently a full time pet sitter.
One of Julie's favorite animal experiences was in 1985, when Humphrey the Whale visited Rio Vista. Julie was working at the CA Marine Mammal Center of Sausalito at that time, and was part of the crew to "herd" the wayward whale back through the Golden Gate Bridge and home to the Pacific Ocean.
You can see Julie's "Dedication to Humphrey" – a painted newspaper box in front of Waldie Real Estate office.
When Julie heard about the Rock the Flock project to paint sheep to help beautify the city of Rio Vista, she jumped at the chance. She was thrilled to have the honor of painting the baby lamb, Skittles.
Skittles has been dressed in PJ's of hearts and many colors, to spread comfort, love and joy to all, in a time when our world needs it most.